We are Manufacturer, Supplier, Exporter of Temperature Scanners, Digital Data Loggers - 951S and our set up is situated in Pune, Maharashtra, India.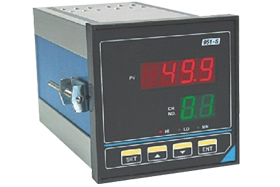 Technical Specifications
Input
Universal and User Selectable RTD: PT100, PT1000
Current: 0-20mA, 4-20mA
Voltage: 0-1VDC, 0-5VDC, 0-10VDC
Thermocouple: J, K, R, S, T
Display
3 ½ Digit for Process Value and 2 Digit Channel Number bright LED display
Display Resolution
0.1°C for RTD and selectable for current of voltage input
Memory
25,000 Readings per channel
Logging Interval
User selectable (1 Sec to 24 Hrs)
Scan Interval
User selectable (1 Sec to 24 Hrs)
Number of channels
8 / 16 / 24
Accuracy
0.5 % of Span
Printer Port
Available Direct Printing on Dot Matrix printer
USB Port
Available for Direct Excel output on Pen drive.
PC Interface
Serial RS232 or RS485 or Ethernet for PC Software
GSM / GPRS
2G / 3G ot 4G support (Optional)
Alarm Output
Common relay output with individual High Low alarm setting.
External Individual channel relay card available on request.
Panel Cutout
92 (W) x 92 (H) x 150 (D) mm
Bezel Size
96 (W) x 96 (H) Weight 1.5 to 3 Kg
Operating Power
230V AC, 50Hz / 110V AC / 12 VDC
Certification
CE Certified
Sunsui's 951S Process Logger is low cost Universal Input Data monitoring and scanning system. Product caters to need to any industry where process monitoring is important. Small size and light weight makes it easy to fit in existing panel or even on field wherever required. Ease of configuration and usage reduces the installation time and makes the system operational with less downtime. Bright LED display for clear visibility of Parameter Values and Channel Number gives wide viewing angle and viewing distance. Individual alarm relay output for each channel is available on request. Serial Communication over Rs232 or RS485 is available for external device communication.
Microprocessor based economical series data scanner.
Support of Universal Input
Ease of configuration using 4 soft keys.
3 ½ Digit bright LED display for monitoring real time process value.
2 Digit LED display for channel number
Compact and light weight design.
Individual High Low alarm setting.
Two common alarm relay output. Individual relay output option available on request.
Support for Dot Matrix Printer.
Skip and Hold channel option available.
Direct Excel output on Pen Drive (Optional).